Scuba Diving in Malaysia > PADI Dive Courses > Rescue Diver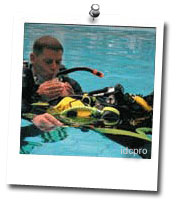 The best buddy any diver can have is one who not only knows what to do in the event of an emergency, but knows how to prevent most emergencies from occurring in the first place. What kind of buddy is this? A PADI rescue diver!
The PADI rescue course gives you these skills plus increases your confidence in your own abilities. It enables you to serve as a safety diver for a wide variety of diving activities, including diver training The course is scheduled over three days and will give you the skills and confidence to handle emergency situations underwater
"Enjoyable and Fun" is the way most divers describe this class after completion.
This is the first serious step on the way to becoming a PADI Divemaster.
Please Note
to become a PADI rescue diver you must have a recognized CPR certificate. Generally, students take the PADI emergency first response EFR at the same time as their rescue diver course. The EFR course is only 4-6 hours.
What do I need to start?
· You can enroll in the Rescue Diver Course as a certified Open Water Diver (or have a qualifying certification from another training organization) and participate in the Rescue Diver knowledge development and rescue training sessions, in confined water only, while working on your Advanced Open Water Diver certification.
· To participate in the rescue training sessions in open water, and to participate in the open water rescue scenarios, you must be certified as a PADI Advanced Open Water Diver or have a qualifying certification from another training organization.
· Minimum age: 15 years old (12 for PADI Junior Rescue Diver)
· Successful completion of a sanctioned CPR program within the past 24 months. The Emergency First Response Primary Care (CPR) and Secondary Care (First Aid) courses meet these requirements.
Sample of schedules:
§ Day 1 - Meet with your Instructor, register and studies assignments (self-study)
§ Day 2 - Pool training - Self Rescue review, Rescue training 1,2,3 - Knowledge review 1,2,3
§ Day 3 - Pool training - Rescue training 4,5 and knowledge review 4,5 - final exam
§ Day 4 - 4 Open Water Rescue scenario over 1 or 2 days on island.
Contact us for more information or select a dive course below.
PADI continue education chart -

click to select your dive course



































Diving frequently ask question FAQs

click here