Scuba Diving in Malaysia
>

PADI Dive Courses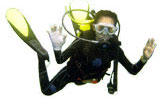 "Scuba diving, relaxing, action-packed, tranquil, adrenaline pumping, adventurous- this is diving is all about and more..."
Can you imagine scuba diving in crystal Clearwater, surrounded by brightly colored fishes and coral, you and your buddy put on your dive equipment to enter the warm water and explore the abundance of marine life...all the while hovering weightlessly like an astronaut.... It's a different kind of pressure, the kind of pressure you'll want more! Don't keep thinking...begin your adventure now in Malaysia with us!
Diving is FUN, and so is learning to dive, but scuba education requires serious commitment from both the instructor and student diver. That's because the joy of discovering the beauty and mystery of the aquatic realm is entirely dependent on safe use of underwater life support system.
So while you may find cheaper, easier and quicker courses, you will not find a thorough, more responsible and more effective diver training than the scuba training programs offered by godiving-malaysia. All courses include new PADI crew pack yours to keep as required by PADI standards, use of equipment and latest PADI learning aids. One-on-one instruction and discount for group of three or more. Online learning is also available, we'll send you your crew pack and you can start learning at your own pace prior to meeting your instructor, this will allow you to get straight into diving with your Instructor!
Contact us for more information or select a dive course below.
PADI continue education chart -

click to select your dive course



































Diving frequently ask question FAQs

click here