Scuba Diving in Malaysia
>

Ravi Shankar - Your PADI Scuba Diving Instructor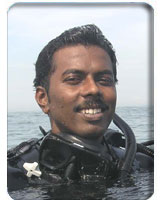 Ravi Shankar has many years of scuba diving experience around Malaysia. He is a PADI Instructor, Emergency First Response Instructor and Specialty Instructor.
At Go Diving we hope to introduce you to this fantastic life as a Scuba Diver. It's our aim to provide each student diver with a rewarding fun course that acts as a next step to continue your diving education. It's is important to us that you get the most out of whatever course you decide to do.
Ravi's aim is to provide you a fantastic diving experience with a strong emphasis on safety and of course, ENJOYMENT! Whether you're a seasoned diver, an adventurer, or a beginner, we cater to your needs.
Diving is a FUN and rewarding past time that many people enjoy safely; With one qualification you have the ability to explore 70% of the earth.
So what are you waiting for? Jump in!
contact Ravi at ravi@godiving-malaysia.com or call/sms +6019 3823172
Go Scuba Diving (SA0135312-X)
NO. 31-1, Jalan USJ 1/1B, Subang Mewah,
47500 Subang Jaya, Selangor,
Malaysia

comments by divers
All sounds very complicated, but actually not so, after you have browsed the
book, watched the video and had the every item carefully explained to you by
the ever patient instructor, Ravi. (Read more from News Straits Times)