Scuba Diving in Malaysia
> PADI Specialties Courses >

DUP Digital Underwater Photography Diver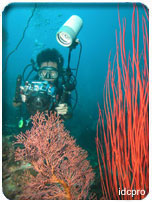 Wouldn't you like to show your friends how beautiful the underwater world is? If so, this course is the right one for you! By taking the PADI Digital Underwater Photography specialty course you'll soon be making pictures like the pros. And you'll also learn to process your photos on the computer.
The PADI Digital Underwater Photography specialty course has a two-level design:
Level 1:
- Point-and-shoot cameras and their practicabilities
- White balancing
- Color filters
- Taking photographs without external flash
Level 2

- Using histograms
- File formats
- Image resolution
- Picture composition
- Organization and archiving
You will also get to learn the PADI S.E.A. method (Shoot, Examine and Adjust) of digital underwater photography. In order to participate in Level 1 of the PADI Digital Underwater Photography specialty course you need to have completed a PADI Open Water Diver course (or a higher course), and successful completion of Level 1 is the prerequisite for Level 2. The duration for both levels is 4 hours each. Participation in both levels is also open for snorkelers who will receive a non-diving certificate after successful completion. Scuba Diving Directory
The course materials include the new PADI Digital Underwater Photographer Manual and an underwater white-balance slate.
Certified divers can get Level 2 credited as an adventure dive for the PADI Adventures in Diving program. The minimum age to enroll in the course is 10 years
For advice regarding specialties, contact us at info@godiving-malaysia.com or call/sms +6019 3823172 remembering that you would have taken certain specialty dives already in your PADI advanced open water course.
You've got Advanced, Rescue, 5 Specialties and 50 dives...become a

PADI Master Scuba Diver