Scuba Diving in Malaysia
> PADI Specialties Courses >

Enriched Air Diver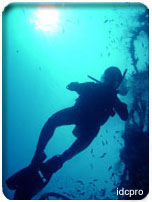 Ever ran out of no-decompression time, but still had half a roll of film left in your camera? Ever had to end your dive after seeing only half of the wreck? Ever wished you could stay in the water for just that little bit longer?
Well, with the PADI Enriched Air Diver Specialty Course, you can.
The PADI Enriched Air Diver Specialty Course is designed to familiarize you with the skills, knowledge, planning, organization, procedures, techniques, problems, hazards and enjoyment of Enriched Air diving. The course will serve as a supervised introduction to diving using Enriched Air containing 22% to 40% oxygen.
The course has an emphasis on the two most popular Enriched Air mixes, 32% and 36%, but caters for any mix from 22% right up to 40% During the course you will learn how to balance all the pros and cons of enriched air diving. You will learn about when it is most beneficial to use enriched air, and what additional safety precautions you should undertake. Scuba Diving Directory
The PADI Enriched Air Diver Specialty Course will allow you to use Enriched Air while diving, giving you more time to take photographs, more time see the rest of the wreck, or simply more time to enjoy your dive.
Time is precious, don't delay! Enroll on the PADI Enriched Air Diver Specialty Course with us today and stop wasting your precious time!
For advice regarding specialties, contact us at info@godiving-malaysia.com or call/sms +6019 3823172 remembering that you would have taken certain specialty dives already in your PADI advanced open water course.
You've got Advanced, Rescue, 5 Specialties and 50 dives...become a

PADI Master Scuba Diver