Scuba Diving in Malaysia > Dive Sites > Mataking island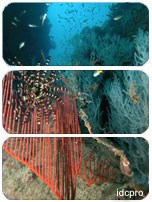 Mataking is located on the east coast of Sabah not far from the more renowned island of Sipadan and Mabul. It is one of the latest additions on the diving map of Sabah and is fast becoming a divers haven due to its largely unexplored diving sites. Located to the north of Mabul Island, Mataking is about 3 times the size of Sipadan and is only a 40 minutes boat ride away from the town of Semporna on mainland Sabah.
There are more than 30 dive sites in and around Mataking and the surrounding islands of Pandanan, Timba-timba and Buhai Dulang. Swim along with the barracuda, rainbow runner, turtles, trevallys, tuna and other rare species of fish. If you are lucky whale shark are also commonly sighted. Be awestuck by the nudibranch and other macro fauna that have made the western reef their home. Head over to the Alice channel on the eastern shores which stretches across to Sipadan island. The D'Wall, Nudibranch heaven, Barracuda Point and Picturesque reef are some of the sites that are not to be missed.
Life on land in Mataking is equally as interesting. Green turtles and Hawksbill turtles occasionally come up to lay eggs on Mataking's sandy shores. Coconut crabs can also be seen scurrying up a tree. If you prefer bird's eye view of Mataking, climb up the King's watchtower and enjoy the breathtaking sights. Not to be missed is taking a stroll down the 1 km sandbar that connects Mataking Besar and Mataking kecil on low tide. The water literally split into half as you wade across the two islands.

back to top
contact Ravi for more information at ravi@godiving-malaysia.com or call/sms +6019 3823172