Scuba Diving in Malaysia > Dive Sites > Kapas island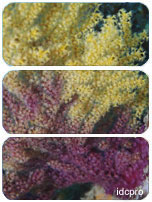 Pulau Kapas and Pulau Gemia (located to the north of Pulau Kapas) are merely 20 to 30 minutes by speedboat from the mainland off the coastal town of Marang, 15 kilometers south of Kuala Terengganu. Water visibility varies between 5 to 15 metres at best. The close proximity to the mainland makes Pulau Kapas ideal for non-diving tourist.
This island is renowned for its pure emerald waters, white sandy beaches, swaying palm trees, caves with swallows' nests, dazzling marine life, and superb coral formation. A long kept secret by lovers of the underwater world, this island offers many secluded areas, which are unspoiled and quiet. Activities that can be undertaken here are scuba diving; swimming, snorkeling, wind surfing, kayaking, boating, picnicking, or just lazing around.

back to top
contact Ravi for more information at ravi@godiving-malaysia.com or call/sms +6019 3823172