Scuba Diving in Malaysia > Dive Sites > Mabul island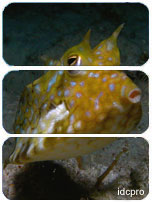 Mabul is located some 25 minutes north of Sipadan Island, this island offers a different world of diving opportunities from most other diving locations. Here is a macro diving paradise where you will be able to find rare macro world inhabitants hard to find at other dive sites.
Among the international diving community, the island's reputation as one of the world's best muck diving site is no secret. Muck diving in Mabul, a term used to describe limited visibility dives at shallow sites with usually sandy bottoms, is one of diving's new rages. It focuses on encounters with unusual little critters popularly known as macro-life. Muck diving is a world away from steep wall and coral reefs, with their almost limitless visibility and easy-to-spot reef and pelagic life. In other words, muck diving offers you the opportunity to flirt with the more bizarre and unusual life marine life to be found.
Mabul diving gives macro photographers some great opportunities to capture some extremely rare ecological species which have carved a niche for themselves in the underwater world around here. Look out for species like multicolored nudibranches, ghost pipefish, devil scorpionfish, stonefish, mantis shrimps, mandarin fish, ribbon eels, snake eels, frogfish, seahorses and crocodile fish, all of which make these sites their home

back to top
contact Ravi for more information at ravi@godiving-malaysia.com or call/sms +6019 3823172